Does the thought of dual carriageways, hill starts or busy roundabouts make you nervous? Do you struggle to remember your reversing manoeuvers? Maybe you can't even remember your left from your right? (I can fix that in ten seconds by the way).
Can you drive really well during your lessons but the thought of your driving test makes you feel worried?
Are you thinking about starting to take driving lessons but just the thought of driving a car makes you feel anxious?
Have you failed a driving test and thought of another test make you want to give up driving?
The good news is we can fix all of the above (and much more) easily and quickly.

If you learn to drive with the Broughton School of Motoring you'll have a patient, friendly driving instructor who has earned many positive reviews for the way he helps learners feel relaxed and confident.
You'll also be offered totally free access to this amazing on-line course.
Designed and created by Diane Hall - a highly respected driving instructor and therapist - this unique course will help you feel more confident at busy roundabouts, on hill starts, town centres and lots more places.
It is guaranteed to help you feel calm and relaxed during your driving lessons and - most importantly - on the day of your driving test!
You'll learn how to take control of your emotions by using tried and tested techniques that are easy to master and very effective. You'll be able to use the techniques to make you feel more confident, assertive and relaxed in other areas of your life too.
Just one of many reviews:
"Nerves were a really big part in my driving. I put it off for 7 years as I was scared of getting into a drivers seat. The therapy and techniques have helped me overcome my fears in different situation within driving and I am now confident and able to drive without being scared. You can also use the techniques for situations in daily life. I would definitely recommend it, for me it has changed my whole perspective on driving."
The Broughton School of Motoring Total Confidence course includes:
The key to understanding your mind
An amazing ABC technique to control negative thoughts
Techniques to eliminate fear, panic, nerves, stress, anxiety, intimidation
Strategies to increase confidence and self-esteem
Methods to stop 'talking yourself into failure'
Ten second technique to stop you muddling up left & right
In car demonstration of the techniques with a real learner driver
FREE eBook: How to beat driving test nerves & anxiety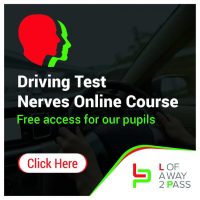 The e-book, on it's own, will make learning to drive a lot easier. The whole package is unbeatable.
So if you're thinking of taking driving lessons in the Scunthorpe, Brigg or Kirton Lindsey area and you want to feel confident and relaxed when you're driving, please get in touch.
Even if you're not one of our customers and you feel anxious about learning to drive or you're worried about the driving test, please send me an email and I'll try to help. No charge 🙂